About Us – The Moving Connection Story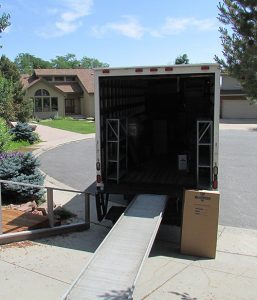 In true Boulder spirit, The Moving Connection was born not out of a calculated business decision, but from the demise of a rock band. The year was 1989 and drummer Glen McGinty suddenly found himself to be the sole proprietor of a big purple truck that the band had used to haul around its equipment. So Glen went into the moving business.
In 1991, Glen met Dave Moloney, a classically-trained chef from Ireland who was running a local alternative bakery (dairy-free, gluten free, and vegan). As Boulder grew so did the company, so Glen talked Dave into moonlighting as a mover. Dave loved the business idea and only two weeks later, he bought the company!
Dave has owned The Moving Connection ever since, and despite the fact that it's meant leaving behind his culinary ambitions, he still loves the moving business and is personally involved in every move. The Moving Connection employees enjoy working for The Moving Connection, and support the company value's. Most of our Movers have been with the company for years, which makes them true experts at every aspect of their jobs.
Since its humble beginnings, The Moving Connection has grown into Boulder's most trusted and experienced moving company. One thing that has never changed in all that time is our commitment to being an integral part of the Boulder community.
Our Record Speaks for Itself!

- Better Business Bureau (BBB) rating of A+
- BBB Gold Star Award Winner

- Referred by local realtors and loyal customers
- Preferred mover for many local companies and organizations

- Locally owned and operated by Dave Moloney for over 25 years
- Serving Boulder, the Front Range and all of Colorado since 1991
- Movers with 15+ years of experience
- Fully licensed with CDOT, and the Colorado Public Utilities Commission (PUC)
- Insured for auto, cargo, liability and workers compensation
Quality moving at affordable prices! Call 303-665-6683 now or contact The Moving Connection to arrange a free onsite estimate!
BBB accredited business since 1994
BBB Gold Star Award Winner – A+ rating!
DOT# 1379509
PUC# 54268
HHG # 00101
* Not affiliated with nor associated with any other Moving Connection in the USA.